Cut a section of heatshrink sleeving 2" longer than the exposed section. It should be just wide enough to slide over the plug but no wider, otherwise it might not shrink down enough.
I've just made a measurement and it needs to be 9.75mm (0.375" or 3/8") diameter, which is 15.5mm (0.625" or 5/8") when flat. It needs to shrink down to 3.2mm so be sure to buy tubing with a 3:1 shrink ratio, otherwise it won't shrink sufficiently. (The 2:1 ratio is no good for this repair.)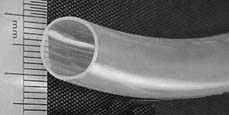 With the sleeving in place, apply heat. I use a paint-stripper heat gun but a hairdryer on its hottest setting might work. If you have neither, you can use the hot barrel of a soldering iron but this must be pressed gently against the sleeving.
I have also used the flame from a cigarette lighter and the flame from a gas oven.
The heat should be sufficient to shrink the sleeving AND to re-melt the adhesive to remove any unsightly lumps.
The resultant repair should now be strong but still fairly flexible.
Assuming that you've never used these items previously, it's a good idea first to practise on a piece of 3.2mm (1/8") cord or tube or a wooden skewer - something that you don't mind throwing away. Testing like this will also ensure that you have 3:1 tubing and not 2:1.