The "Naos" cafeteria in Georgioupolis, Crete is now called Stelios Café Bar
This delightful cafe is on a narrow side street just a few metres from the corner of the square, which is opposite the pharmacy. The "Naos" sits between the "Samaria" and "Sinatra's" (which used to be called "Risko's"). It is run by owners, Georgia and Stelios, and their children. Both speak English and will be very happy to teach you Greek phrases, as well as serve you food.
You can have a small or a full English breakfast at any time of day. If you are a vegetarian, please say so and a breakfast with mushrooms, beans, tomato and anything else you desire (eggs if you are not vegan) can be provided.
Everything is cooked in olive oil, not animal fat.
You will often find English residents having breakfast at the "Naos" - especially on a Sunday morning. Feel free to ask them about life on the island.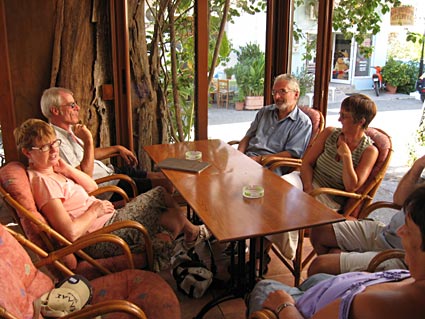 "Naos" means "temple" in English. The cafe is open every day, all year round. Apart from the all-day breakfast, you can get drinks, "tost" (cheese and ham toastie), "Pastitsa" (meat and pasta in a bowl), and moussaka when available.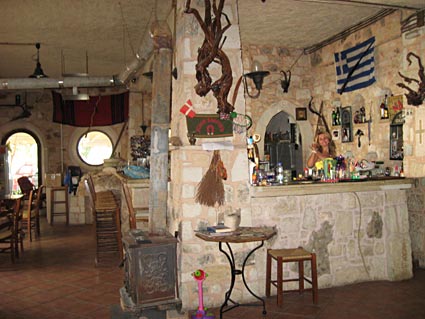 It's warm enough to sit in the outside covered area for most of the year but indoors is a traditional "somba" wood-burning stove for those rare days when it gets chilly.
Georgioupolis is a seaside fishing town, which has gorgeous beaches that stretch for miles - almost as far as Rethymnon. From late July to October you can enjoy swimming in the warm sea, or in the outdoor swimming pool on the sea front.
Georgioupolis has many other attractions including mini-golf, shops, tavernas, churches, horse-riding, country walks on mostly flat roads or simply "people-watching". There is also night life - not the raucous kind you might find in places like Malia but a more traditional eating and drinking, sometimes accompanied by music and sometimes by a football match on TV.
Places to eat and drink in Georgioupolis, Crete. Cafes and tavernas.