How to get Free Satellite TV
Most people think they have to PAY in order to watch satellite TV. Is this you? Of course companies like DirecTV and Sky have a large portion of the market but there is FREE satellite TV being broadcast to watch without a subscription. Perhaps you are a real news junkie or an avid sports fan? Or maybe you are a foreign national who wants TV in your own language? Did you buy a brand new television set, trying to get the sharpest picture possible? Are you sick of adverts? Are you annoyed because DBS (Direct Broadcast Satellite) and cable networks transmit the Olympic Games at prime time instead of at the real time of the event? If any of the above are true or if you are simply curious, this will interest you! We will look at what's out there and what you must do to get free satellite TV legally.
Your own satellite system provides you with the mental and monetary freedom to explore the broadcasts. With satellite TV you can look for anything and everything being broadcast via the satellites in geostationary space orbit. See uncensored live news and events around the world as they occur, or maybe a 24-hour feed from NASA, sports games, PBS channels, a huge number of radio channels, and trials in court - just to mention a few that you can get to watch. You can tap into the international television channels or watch your favorite talk shows several times during the same day as they are being aired in different time zones. At the same time you do not have to worry about monthly lease payments for DBS receivers or monthly service charges for DBS subscription packages. Of course, you will incur the initial costs to get your system set up. But it's a free ride after that.
The actual programmes that you can watch are dependent on your location. If you are in North America you'll be able to pick up Canadian broadcasts. If on the East coast you should be able to receive some European satellite channels. In the southern states you can get Hispanic programmes. In the UK you can watch TV from all over Europe. There are several satellite TV guides that will give you satellite channel information.
So what equipment do you need? You'll have to get a dish assembly, a digital "Free To Air" satellite TV receiver, some cable and connectors (and, of course, a TV set). You can often buy this stuff from the larger DIY stores or from a specialist supplier. The dish can be fixed on a pole at ground level, provided it has a clear view of the exact spot where the required satellite is in orbit. If the view is obstructed, you will have to mount the pole on a wall or roof. If you don't like heights you can get a professional to do the installation.
The cost is dependent mainly on dish size and type of receiver. These start at around US$100 and an 18 inch dish kit at around US$40. However, a four foot dish could cost several hundred dollars. It will be easier to align the dish if you buy a signal meter and a compass, which start at about US$10. The cost shouldn't matter because you'll probably use it once then sell it on eBay - unless you get "bitten by the bug" and end up installing systems for your friends. Hey, you might even set up your own installation business!
When you have your own Free To Air satellite TV system, the sky really is the limit. So do some research and find out what you've been missing.
Martin Pickering is a satellite TV expert who has published many "dummies" books on the subject. He runs several web sites which provide free- and low-cost eBooks for download and information about digital TV. Be sure to check out
http://www.The-Cool-Book-Shop.co.uk and http://www.satcure.com
free satellite tv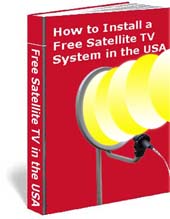 How to Install a Free Satellite TV System in the USA (and Canada)
(Click on the book for more information)
This eBook deals with aspects of installing a satellite TV system in the USA and Canada. You can not receive UK (Sky) satellite TV anywhere in the USA because the UK satellites (Astra-2) are below your horizon. However, you CAN receive a few free English broadcasts and a lot of free foreign broadcasts with a suitable digital receiver, "universal" LNB and - in many places - quite a small dish. If you want FREE TV in the USA or Canada, this eBook is for you!